GALLERY of EXCELLENCE
My students do some really fantastic work. Each student has agreed to posting this work for your review.
The amount of effort placed by ALL students should be rewarded here, but space is limited. These are some of the Best of the Best!
An Analysis of Sir Gawain and the Green Knight
A Look into what makes Sir Gawain and the Green Knight a medieval romance. Here you'll find essays addressing this topic!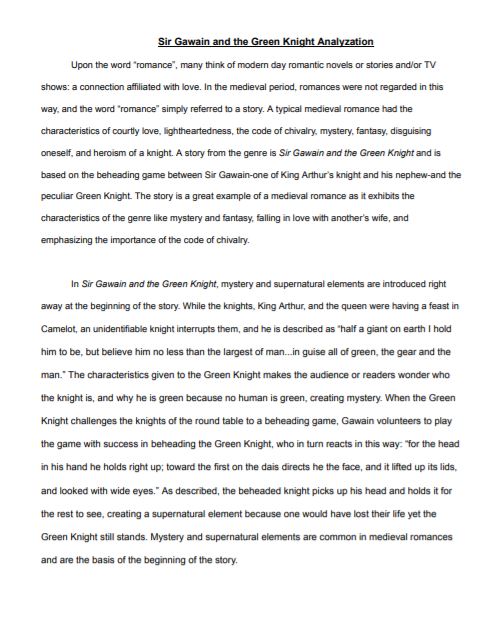 PECHA KUCHA
Students will create a presentation using PowerPoint that will feature 20 slides, each lasting 20 seconds in length featuring the student narrating the presentation. Animations should be non-existent. Students are to present in the presentation information about key figures of this period and their relationships to each other, information about literary devices used in the unit as to how they contribute to the characteristics of nature found in poetry – specifically William Wordsworth Poems, what influenced the outlook of Romantic period poets, a brief history of Gothic Literature and its most influential pieces, the status of women in this time period, and how major events happening in the world influenced the writers of the Romantic Period.
A Pecha Kucha is a simple presentation format where you show 20 images, each for 20 seconds. The images advance automatically and you talk along to the images.
PREZI
Students will be creating a Victorian Era State Fair. Using the ideas of the Great Minnesota Get Together, how would the Fair look if it was ongoing during the Victorian Era? IN reality, the fair operated then, but none of us were in attendance.
In the Victorian version, many aspects of our version of the fair exist as well. These include Machinery Hill (showing key mechanical inventions of the period), Entertainment (poetry/book readings, musical acts), Art, Science, Food (only three items on a stick), a Victorian-era-style midway, and which Victorian era author you would have immortalized in a butter sculpture and your reasons for this selection.
In addition, the current site of the Minnesota State Fair is located on the grounds of the former Ramsey County Poor Farm. Explain the significant features and drawbacks of American Poor Farms and English Poor Houses in the Victorian Era with its own display at the Fair.
Both teachers and students have become numb to conventional classroom presentations, where they're confronted with slide after slide containing too much information in quick, disjointed succession.
Prezi's zooming canvas opens up the classroom to active learning and interactivity, making lessons understandable, memorable and fun.
© Copyright Mr. L's MyWirelessClassroom